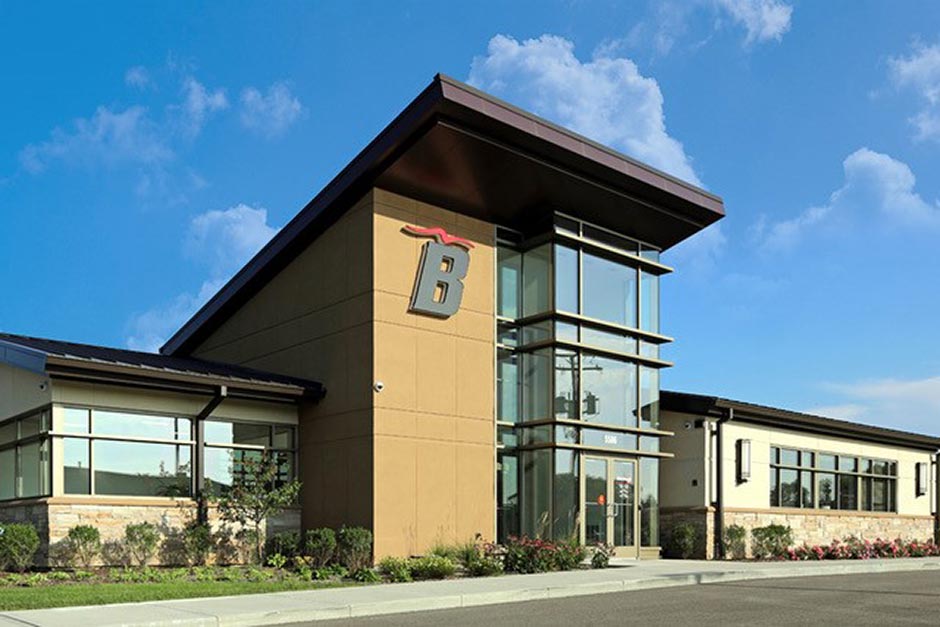 Financial Facility Expertise
PG Design + Build's financial facility experts leverage 50+ years of bank design experience and research to create environments that:
facilitate superior customer service,
create memorable customer experiences,
foster deeper customer connections,
strengthen your brand,
communicate product and service messages, 
increase workforce and operational efficiencies, and 
unlock your staff's potential as universal bankers.
Your branch is your 3-dimensional customer experience and your greatest opportunity to engage and delight your customer.
Branch Renovation
When your branch interiors are in need of a refresh, it's time to consider how the design is serving your business objectives. PG will help your team navigate the options and opportunities to create your own unique branded branch experience, deepen customer relationships, and increase operational efficiencies.
New Branch Construction 
Few endeavors offer a greater opportunity to impact your bottom line and brand experience than adding a well-designed, replicable branch location through new construction.  PG's team offers a range of planning services to ensure your project gets off to a great start.  From market studies to identify the best location and placement for your branch, to projecting space/programming needs, possible timelines, and estimating construction costs, PG's leaders will help your team understand and navigate the possibilities.
Prefabricated Panels
To save our clients time and money on new construction projects, PG developed relationships with Prefabricated Panel System vendors. In essence, the exterior panels of your branch are built indoors to maximize quality, reduce cost, and save time.  To learn more about the quality and savings derived from prefabricated panels, click on the "PREFABRICATED PANELS" tab at the top of the page.
Teller Pods Foster Deeper Customer Relationships
When you remove the barrier of a traditional teller line, amazing things happen. Suddenly, tellers have the freedom to approach every interaction as a universal banker and customers become better connected to your staff and brand. To learn more about what Teller Pods and PG Design + Build can do for your branches, scroll down this page below the Portfolio samples.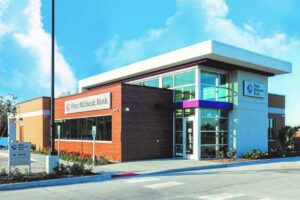 First Midwest Bank, Davenport Branch
PG worked closely with the client to develop this prototype of a new, one-story branch. Designed to bring in lots of natural light through the entryway and across the offices, the lobby welcomes cu...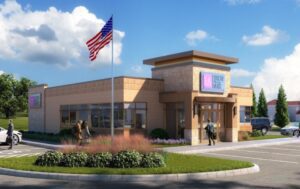 Union Savings Bank, Mt Morris
PG broke ground on construction of this facility in the spring of 2021. This bank facility was built using PG PreFAB panels. Efficiencies derived from the prefabricated panel process made it possib...
Cornerstone Credit Union, S Beloit
Cornerstone Credit Union hired PG to renovate the entire exterior and interior of this branch facility while remaining within the original building foot print. To create an open, bright and invitin...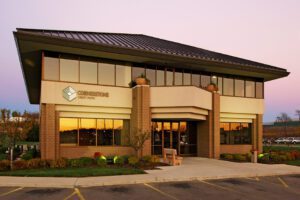 Cornerstone Credit Union, Freeport
This full-service location serves as the corporate headquarters for the credit union. The second floor contains administrative, accounting and other support functions, as well as areas for future g...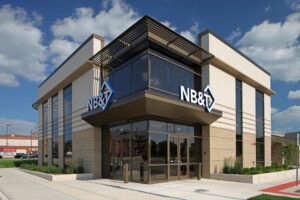 To create brand experience continuity, this modern, stand-alone branch was designed to echo some of the traditional details of NB&T's headquarters.  Instead of the traditional barrier of a tell...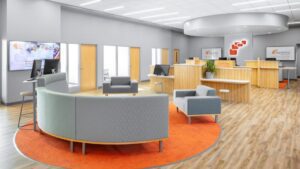 Sited to take advantage of stunning Mississippi River views, Ascentra Credit Union's four-story headquarters had a dramatic response in the community with the Quad Cities Times calling it "...a hal...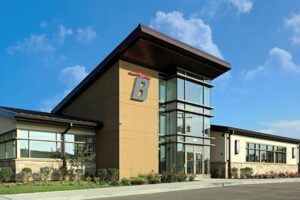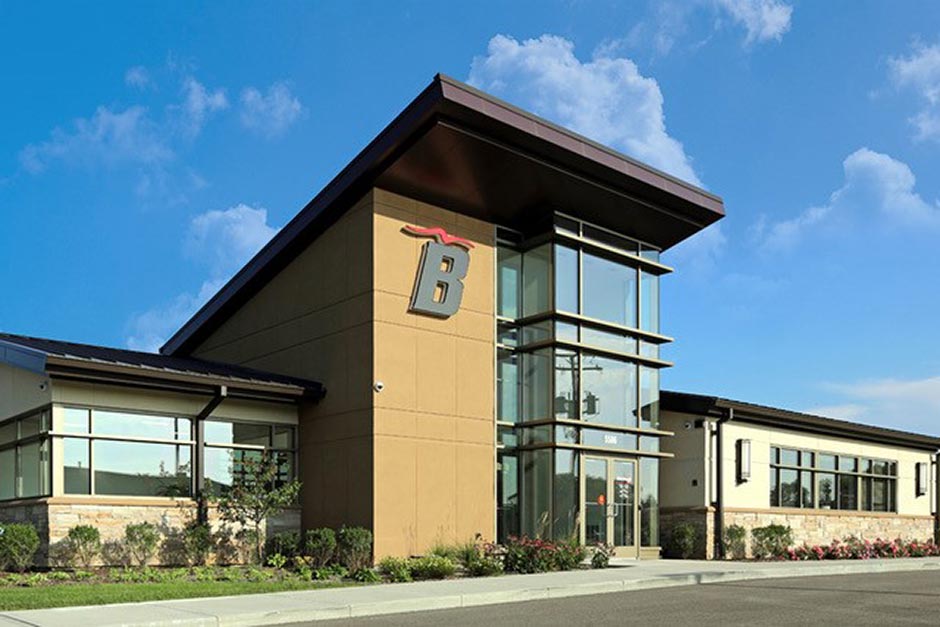 Blackhawk Bank, Roscoe Renovation
PG provided architecture, planning, and interior design to successfully convert an existing restaurant complex into a full-service banking center. The ground floor contains a full-service branch as...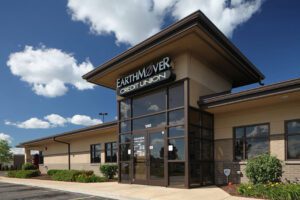 Constructed in just four months using PG PreFAB panels, this facility features a "Midwestern prairie style" with brick and stucco finishes to complement Earthmover Credit Union's Yorkville, Illinoi...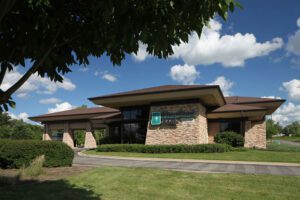 (formerly Citizens First National Bank) PG provided a wide range of services from site analysis to building design and construction services for this facility.  The ground floor utilizes contempora...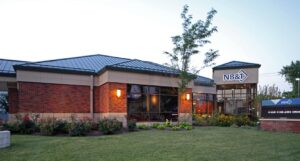 This beautiful retail bank features an open retail lobby, two teller stations, two drive through lanes, an ATM, four offices, a conference room, and an employee break room. THE POWER OF PREFAB Whil...
The original project involved the complete remodeling and renovation of a four-story building. A comprehensive reorganization of departments and traffic flow were developed to enhance and emphasize...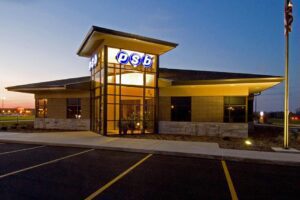 Utilizing an open retail floor plan with coordinated opportunities for merchandising and messaging, this modified prairie style facility was designed to maximize customer/sales opportunities. The f...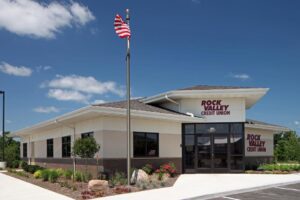 This prairie style facility was designed to bring a "fresh face" to Rock Valley Credit Union's members. Featuring an inviting interior lobby with three teller stations, two offices, conference room...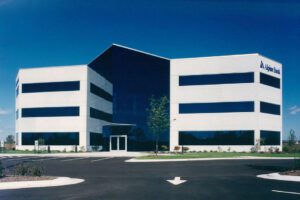 This landmark building presents a high-style corporate image. Finished in pre-cast wall panels and butt-glazed glass, this building is as stunning to view as it is efficient to operate and maintain...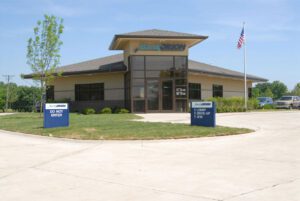 PG worked with BankORION on a turn-key basis from concept to completed construction for this Moline branch. Prefabricated components not only cut the construction time in half but also significantl...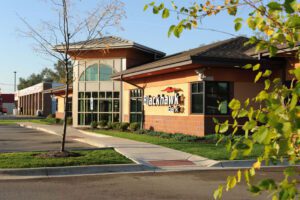 Blackhawk Bank, 11th Street Banking Center
This full-service branch features three teller stations, three drive-up lanes, an ATM lane, an internet banking station and hospitality area, two large waiting areas with a children's play space, a...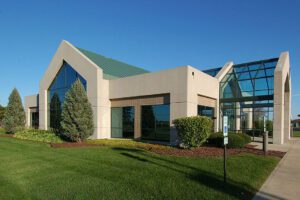 As newcomers to the area, the bank wanted a distinct profile. The bank utilized retail banking concepts, maximizing the customer experience with strategic positioning of the five-station teller lin...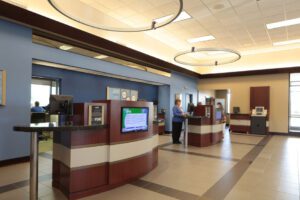 This NB&T branch facility is designed to accommodate existing customers as well as to attract a new client base. The exterior materials consist of a gray granite base, brick walls, and precast ...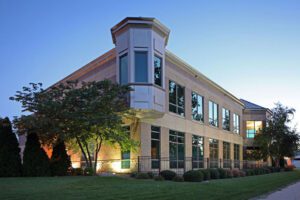 New Construction Located in the heart of downtown LasSalle, Illinois, this two-story headquarters was designed with a style that blends with the historic downtown. Loaded with messaging and bra...
TELLER PODS
RESEARCH AND DEVELOPMENT
PG's leadership team conducted two years of intensive research and development to refine every aspect of PG Teller Pods to maximize results for our clients. From the size and shape of the counter to the positioning of the swivel monitors and cash recyclers, PG's deep knowledge of banking operations makes a difference. There may be other Pods in the marketplace, but none can match PG Teller Pods.
Unlock Your Branch Potential and Expand Your Relationship Banking Opportunities!
Create an efficient, comfortable, private and secure space by adding customer-friendly Teller Pods. Custom designed by our banking experts, PG Teller Pods are available in a wide variety of custom finishes to compliment your current decor.
TRANSFORM YOUR CUSTOMER EXPERIENCE
Unlike the barrier of a traditional teller line, interactions at a teller pod (or island) are much more personal and facilitate important financial conversations that can lead to a deeper connection to your bank and staff. The comfortable experience facilitates cross-selling other financial products.
TRANSFORM YOUR STAFF's EXPERIENCE
Tellers rave about the efficiency, accuracy, and security of a well-designed Pod using cash recyclers. Tellers become much more invested in their roles as universal bankers and are capable of facilitating a wider scope of banking services. In fact, research suggests that teller's job satisfaction increases and turnover rates are reduced. The week after PG installs Pods, the phone starts ringing and emails pour in with excited branch managers' happy reviews!
CALL FOR DETAILS: (815) 654-9700. Let us put our experience to work for you!
Why PG?
 1. DEEP KNOWLEDGE OF FINANCIAL FACILITIES
In a firm with a legacy of over 500 banking facilities and 50+ years of financial facility research and design, our experience informs your recommendations and adds value at every stage of your project.
 2. Teller Pod and Island R&D
Informed by intensive Teller Pod research, we'll help you create a retail lobby that unlocks your staff's potential as universal bankers and fosters deeper customer relationships. 
 3. Prinicipal Involvement In Every Project
You'll work with Steve Howlett, PG's owner and banking facility expert. He has spent 30+ years completing hundreds of financial facilities to maximize results for clients. 
 4. Leadership Team Together for 20+ years
Like a well-oiled machine, our experience as a cohesive team makes it possible for us to deliver on time and on budget every time.
Schedule Your Free Consultation
We've found that leadership teams need a good set of data (a budget, timeline, and key objectives) in order to seriously consider your next facility investment. So, we've created a couple of free consultation options to get you the data you need and give you a chance to get to know us.
• FREE WALK-THROUGH BRANCH CONSULTATION
One walk thru of your branch with you, and we'll help you envision all of the ways that your retail space can amplify your relationship-building opportunities, create efficiencies, and reinforce your branding and messaging.
• FREE NEW BRANCH CONSTRUCTION CONSULTATION
We will help you frame-in your options with an evaluation of your site (or assistance with site selection) and provide you with a detailed budget. 
READY TO SCHEDULE your branch walk through or new construction consultation?  Call (815) 654-9700 and ask for Steve Howlett or email steve@pgarch.com.