Prefabricated Panel BENEFITS
With many of our clients interested in expanding into new markets, PG created our own building process for a custom-designed, prefabricated panel building shell that delivers to the site with all the exterior finishes in place.
Saves Money
Saves Time
Higher-Quality Build
Environmentally GREEN
CHECK IT OUT:  See prefabricated panels being placed by a crane in a time lapse video below.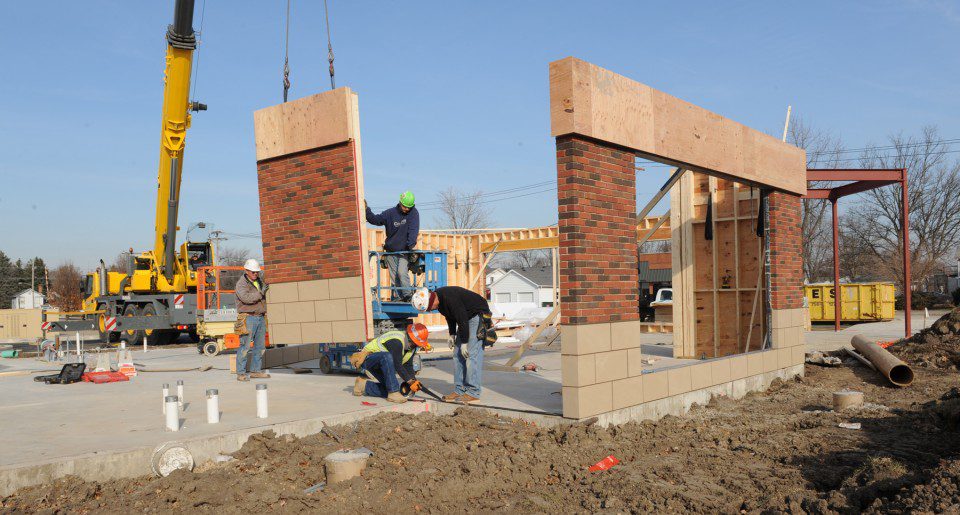 Prefabricated Panels Are Ideal For Stand-Alone Clinics, Bank Branches & More
Prefabricated panels offer a cost-effective, permanent facility that can be constructed in as little as five months instead of the typical seven to nine months. In addition, prefabrication offers a controlled indoor environment for exterior wall construction that dramatically enhances build quality in a manner that cannot be matched on a traditional outdoor construction site.

Plus, for clients who want to demonstrate their commitment to the environment, using Prefabricated Panels is inherently GREEN and can be LEED certified.
Why PG?
LEVERAGING 50+ YEARS OF EXPERIENCE 
In a firm with a legacy of over 50 years of facility research and design, our experience informs our recommendations and adds value at every stage of your project.  From Prefabricated Panels to the latest advances in building materials, PG will provides advice to ensure your facility investment stands the test of time. 
Schedule Your Free Consultation
We've found that leadership teams need a good set of data (a budget, timeline, and key objectives) in order to have a serious discussion about your next facility investment. So, we've created a couple of Free Consultations to get you the data you need and give you a chance to get to know us.
• FREE WALK-THROUGH SITE ASSESSMENT
One walk through of your site with you, and we'll help you envision the possibilities for your new facility.  And we'll deliver a budget, timeline, and key objectives. 
• FREE NEW CONSTRUCTION CONSULTATION
We'll help you frame-in your options with an evaluation of your site (or assistance with site selection) and provide you with a detailed budget, timeline, and key objectives.
READY TO SCHEDULE your site walk through or new construction consultation?  Call (815) 654-9700 and ask for Steve Howlett or email steve@pgarch.com.